A Brief Interlude on the CI Background and the Need for a New Approach
In their latest academic paper in the Competitive Intelligence (CI) field, Freyn, Shelly & Hoffman, Fred. (2023, p. 8) strongly emphasize that company information on company's websites is the most common source of competitive intelligence. However, referencing Paap (2020, p.44), the authors concede that CI professionals often rely on external services and third-party services due to the complexity and time-consuming nature of setting up and managing competitor monitoring systems.
This approach, however, can limit the insights gained, as businesses cannot access the underlying data and may not be able to build their own customized datasets. In today's fast-paced business environment, staying ahead of the competition is crucial to success, and companies need to continuously monitor their competitors' websites to gain insights into their activities, strategies, and performance.
Recognizing the need for an accessible solution that empowers businesses to collect their own data, Midesk has developed an AI-Driven Competitor Monitoring solution that revolutionizes the way businesses monitor their competitors.
Our cutting-edge technology streamlines the process to a one-URL input, overcoming the barriers to monitoring, and enabling companies to easily build their own datasets, leading to more comprehensive and effective competitive intelligence.
This innovative approach allows businesses to retain exactly the data they need and tailor their competitive intelligence efforts to their specific requirements.
Introducing Midesk's AI-Driven Competitor Monitoring
Our AI-Driven Competitor Monitoring feature is a powerful, solution that enables users to effortlessly monitor competitors' activities without the need to set up anything. By simply providing a URL, the platform handles the entire process, including content scanning for identifiers, setting up monitoring jobs, spinning up databases, and creating related news feeds.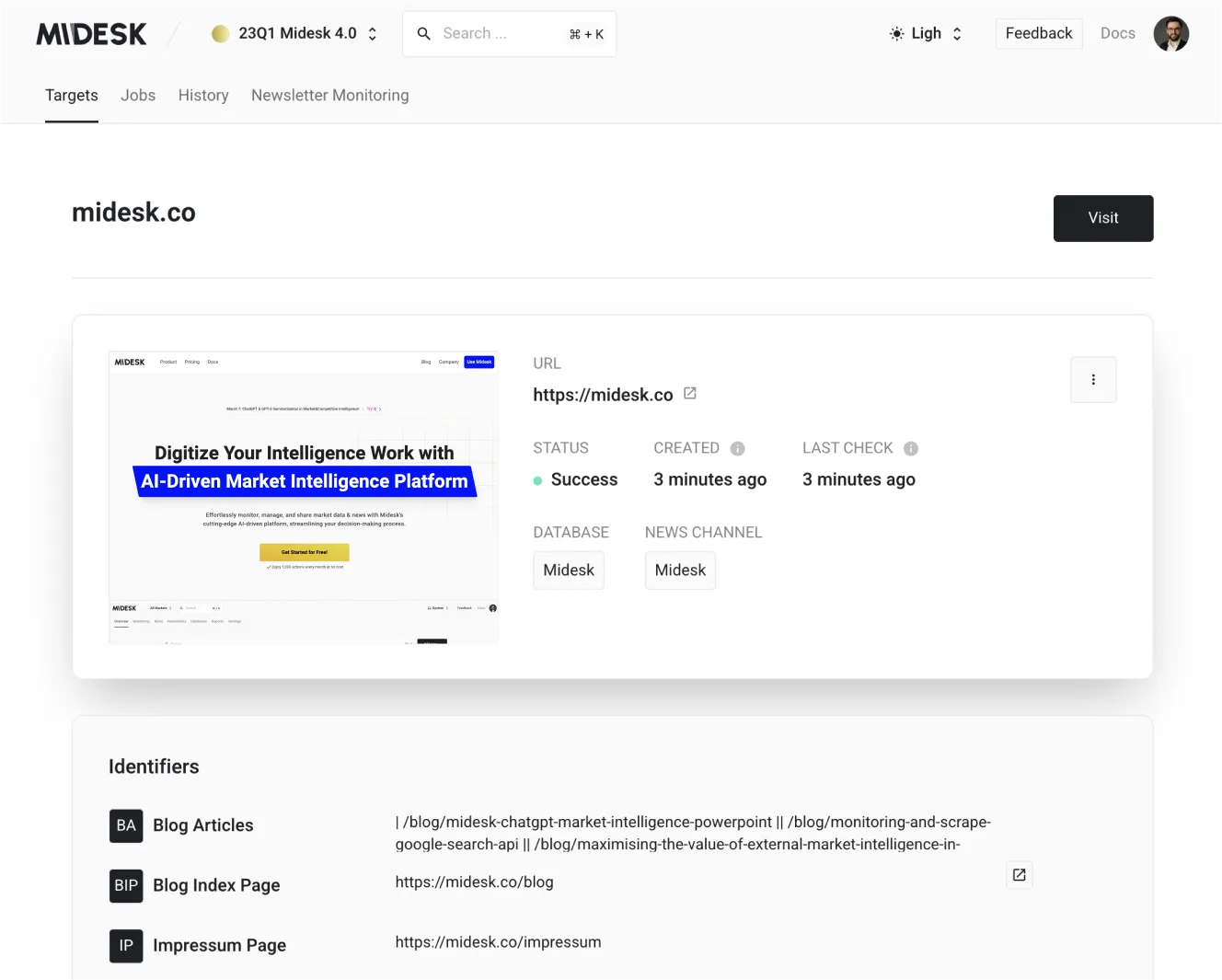 Midesk's platform utilizes a variety of identifiers to target specific elements on competitors' websites and social media accounts, providing valuable insights into their activities and strategies. These identifiers include AI-identified KPIs, logos, social media accounts, blog index pages, news index pages, Impressum pages, team pages, sitemap files, and RSS feeds.
Key Features and Benefits
Our AI-Driven Competitor Monitoring solution offers several key features and benefits:
Effortless Integration: Provide just a URL, and our end-to-end solution handles the rest, delivering comprehensive insights without the need for additional integration.
URL Management: Automatically clean, optimize, and discover new relevant URLs for comprehensive monitoring.
Recursive Monitoring: Our AI follows pages, identifies relevant information, and learns from past results to provide the most accurate insights.
Categorization and Grouping: Organize information and leverage AI to contextually group related content to digest and analyze.
Real-time Updates: Stay up-to-date with the latest competitor activities through automatic content gathering and website change monitoring.
Extensibility: Easily scale your competitor monitoring efforts as your business grows, without any extra effort.
AI-Identified KPIs: Benefit from the power of ChatGPT to extract and analyze quantitative KPIs from competitor websites.
Stay Ahead of the Competition
Don't let your competition get the upper hand. Try Midesk's AI-Driven Competitor Monitoring solution today and revolutionize the way you monitor and analyze your competitors.
---
References
Freyn, Shelly & Hoffman, Fred. (2023). Competitive intelligence in an AI world: Practitioners' thoughts on technological advances and the educational needs of their successors. Journal of Intelligence Studies in Business. 12. 6-17. 10.37380/jisib.v12i3.893. Accessed on Research gate on 18 March 2023.

Paap, Jay. (2020). Mapping the Technological Landscape to Accelerate Innovation. Foresight and STI Governance. 14. 41-54. 10.17323/2500-2597.2020.3.41.54. Accessed on Research gate on 18 March 2023.