We are thrilled to announce the launch of our latest feature, Nested Smart Channels, designed to improve the way you manage and organize market and competitor news into folders powered by advanced AI clustering. Nested Smart Channels further enhance your market and competitive intelligence experience in Midesk.
What are Smart Channels?
Before introducing the Nested Smart Channels in details, let's first clarify what Smart Channels are. Serving as containers for your news, Smart Channels harness the power of AI clustering to bring you and your teams the most relevant market and competitor news and insights. By efficiently reducing noise, duplicates, and providing historical context, Smart Channels have been a major milestone in applying AI-driven approach to enhance news processing speed and streamlining the news management experience.
What are Nested Smart Channels?
Nested Smart Channels is a new feature that allows you to group your Smart Channels into folders. This feature is designed to further organize your news and insights in a way that is most relevant to you.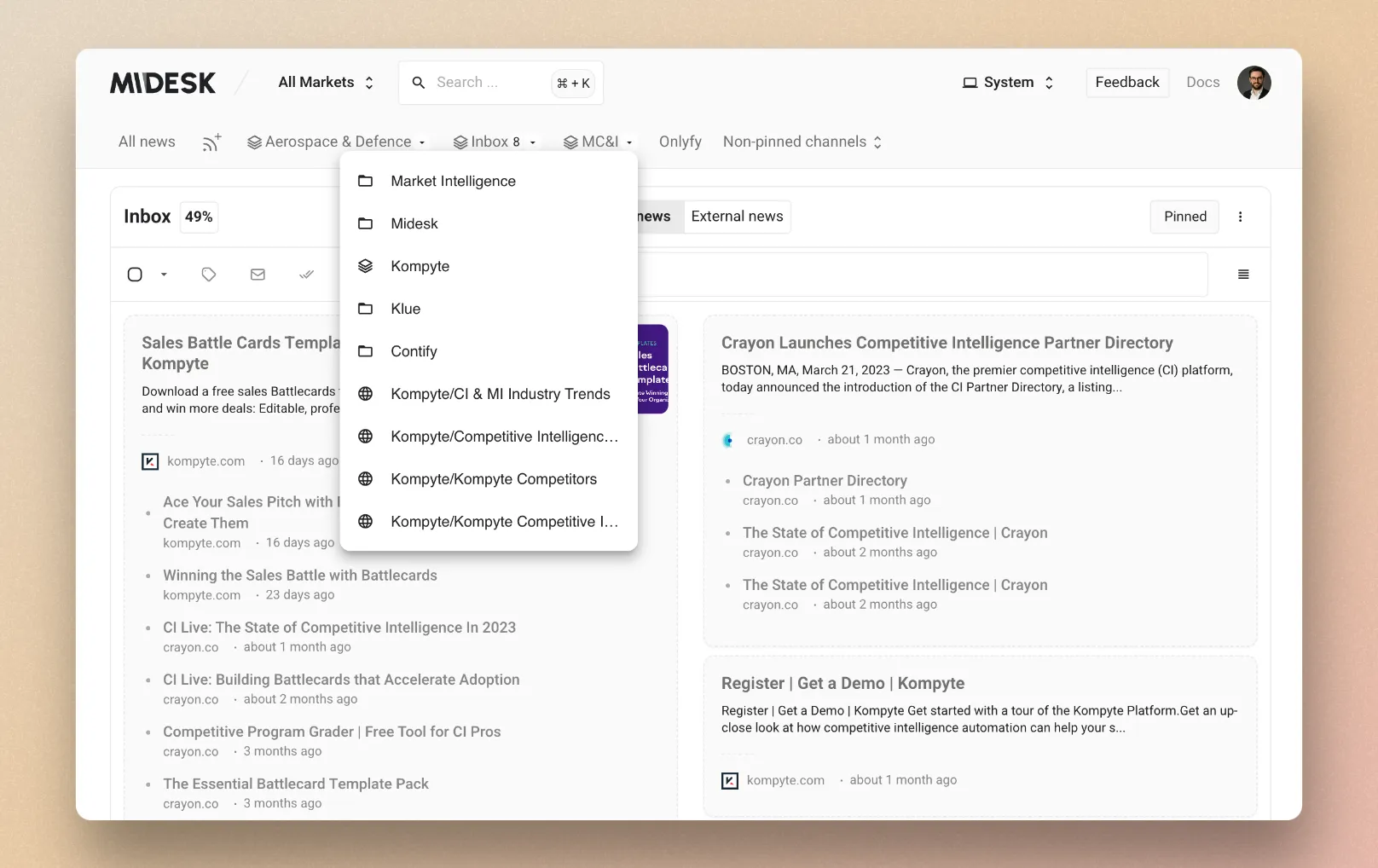 Our advanced AI clustering works seamlessly with Smart Channels to deliver highly relevant and valuable content tailored to your preferences.
Benefits of Nested Smart Channels
Nested Smart Channels offer numerous benefits that will enhance your market and competitive intelligence experience in Midesk:
Efficiently manage news by organizing it into nested smart channels
Group similar content to easily locate and access relevant information
Utilize AI-powered multilingual clustering for even more refined news management
Personalize your channels based on your preferences for a more tailored experience
Save time by minimizing the need for manual searches
Reduce duplication and streamline data into specific containers
Seamless integration with existing AI-powered multilingual clustering feature
How to get started with Smart Channels?
Creating a nested smart channel is easy. Simply follow these steps:
Go to News
Click on settings
Add children channels
These steps and highlighten in the video below.
Conclusion
We're confident that Nested Smart Channels will significantly improve the way you manage and organize your market and competitor news. We look forward to hearing what you think!