Today, we're thrilled to announce our new feature that redefines how you share news: RSS output channels. In our mission to streamline your Market & Competitive Intelligence process, we've just added the ability to display news channels as RSS feeds, complete with password protection for increased security. Let's dive into the specifics of what this means for you and your business.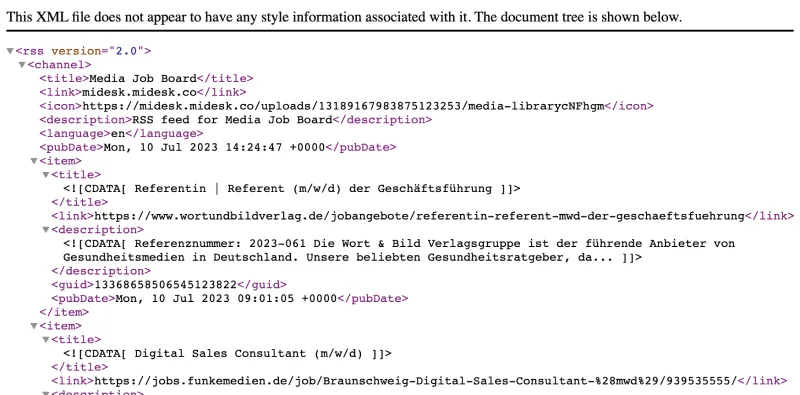 What are RSS Output Channels?
RSS, or Really Simple Syndication, is a format for delivering regularly changing web content. Many news-related sites, blogs, and other online publishers syndicate their content as an RSS Feed to whoever wants it.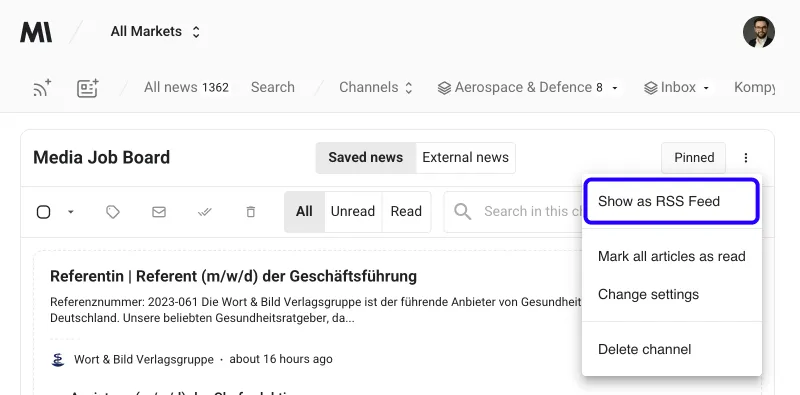 Midesk's new feature allows you to turn any news channel into an RSS feed. This means that instead of manually checking your favorite news channels on Midesk, you can have all updates delivered to you, as soon as they are published, via an RSS reader of your choice. But it doesn't stop there; we've added an extra layer of flexibility and security.
Why Password-Protected RSS Feeds?
As professionals dealing with critical Market & Competitive Intelligence, we understand the importance of information security. That's why we've implemented password protection for your RSS feeds. This ensures that only the intended recipients can access your carefully curated news, keeping your intelligence assets secure.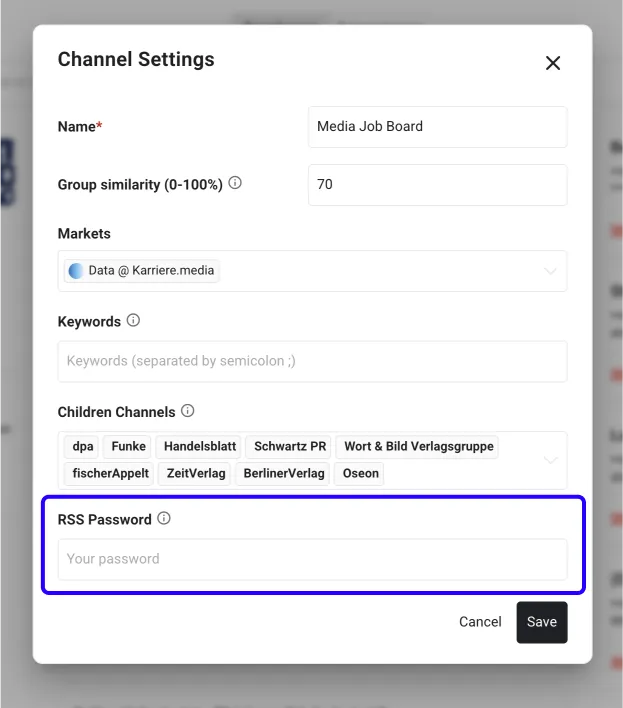 To add a password, simply navigate to your chosen news channel, click on "More" -> "Settings", and add your desired password. This way, you can confidently share your news channels as RSS feeds, knowing that your information remains confidential and protected.
Leverage RSS Output Channels For…
The possibilities are endless with RSS output channels, and here are a few ideas to inspire you:
Efficient News Distribution: Share your news channel updates with stakeholders, team members, and other relevant individuals. This ensures everyone is on the same page with the latest market and competitor news.

Integration with Other Tools: Connect your RSS feeds to applications or platforms that support RSS input. This will enhance your existing workflows by providing an automated flow of news updates.

Ease of Access: With an RSS reader, you and your team can easily access the news feeds at your convenience. This eliminates the need to log in to Midesk every time, streamlining your news monitoring process.

Security: Password protection allows you to control who gets to see your news feeds. This helps to keep your competitive intelligence safe from prying eyes.
We're excited to see how you'll use this feature to optimize your news monitoring and sharing processes. Stay tuned to our blog for more updates on features that simplify and enhance your Market & Competitive Intelligence journey.