As you may know, we joined a startup accelerator this year in August. As all good things come to an end, just before Christmas, our journey through the accelerator culminated and we graduated during a grand "Demo Day" organised by Next Media Accelerator. And it was unforgettable.
What's a Demo Day?
A Demo Day is a final event where the latest batch of accelerator-funded startups presents their companies and progress to investors, media, potential customers, friends, and families. Our Demo Day marked the end of our 4-month journey through an accelerator program of Next Media Accelerator, during which we worked hard on optimizing our business model, distilling our story and testing. We joined the stage alongside our friends from BotTalk, Casablnca, GetCreative, Story.one, Tebeox and Zaubar.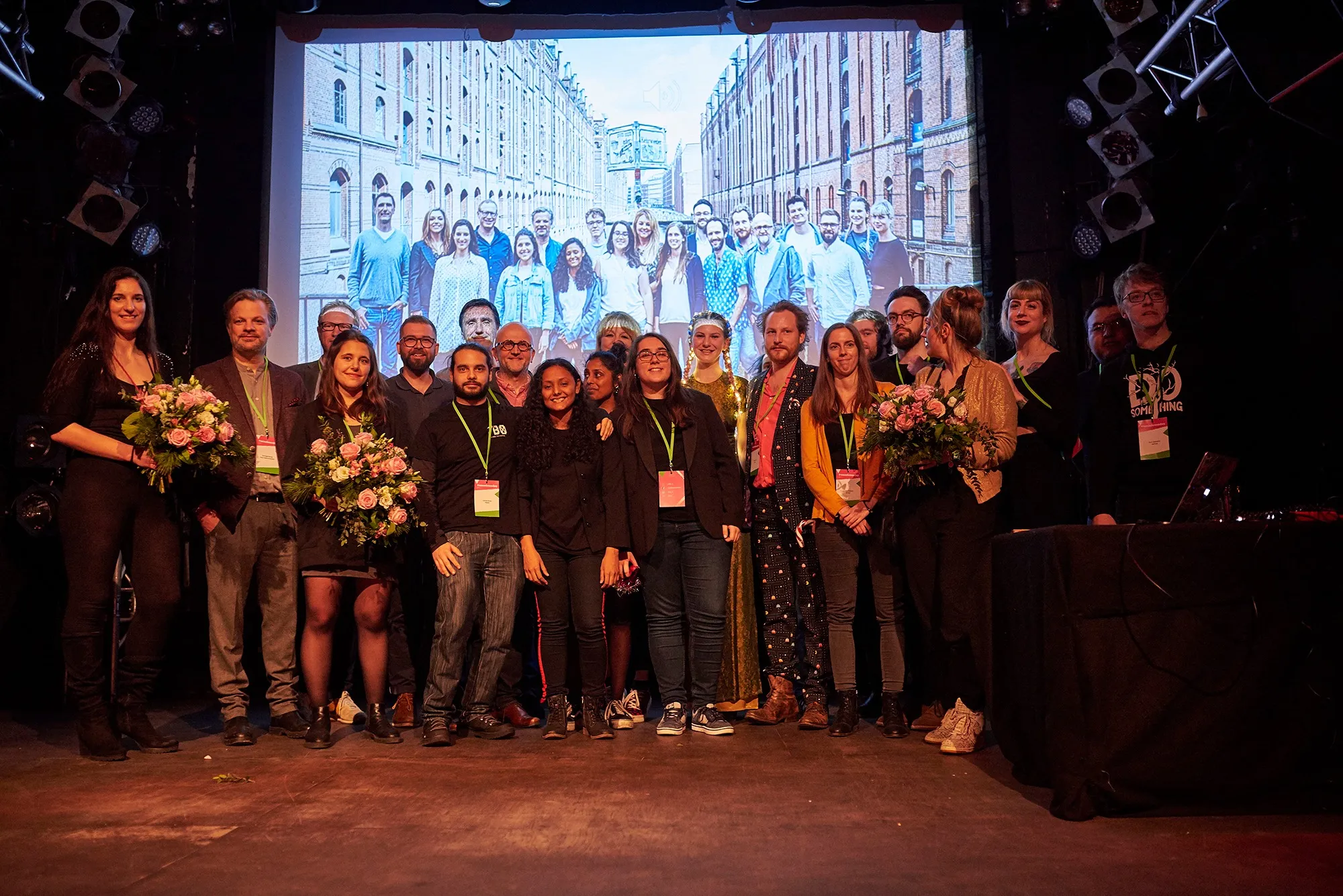 Demo Day Preparation
We got used to pitching, as it is a daily routine for every early-stage startup. However, this pitch was supposed to be a "stronger coffee". We were going to showcase our progress in front of a much larger audience than usually, consisting of more than 200 people. To make things even more exciting, we had 5 minutes and were supposed to talk not only about the standard parts but also present our successes until the date and plans for the future.
So we started preparing slides and wording our story weeks before the event. Many tips, tricks, and bits of advice we got from our mentors during the accelerator program came in handy.
There were countless slide versions and changes. To make things even more exciting, everyone had a different opinion on what works and what doesn't. And then the pitch training in the team, in front of the other start-ups and our business partners. Rinse and repeat.
In the end, we think we created a pretty cool pitch.
On the Big Stage
"Data has become the most valuable commodity in the world," Jakub started by explaining why it is important to understand your markets and why data and Market Intelligence is so valuable. The problem is that not all companies take the importance of what's happening outside seriously, illustrating this by the example of Nokia. But maybe the even bigger problem/opportunity lies within the area of small to mid-size companies that haven't addressed Market Intelligence per se yet.
Jakub explained symptoms that indicate that a company may have a problem in this area and talked about the currently imperfect options companies can choose from. And as a consequence, many companies tend to start expensive internal projects to develop market intelligent capabilities from scratch.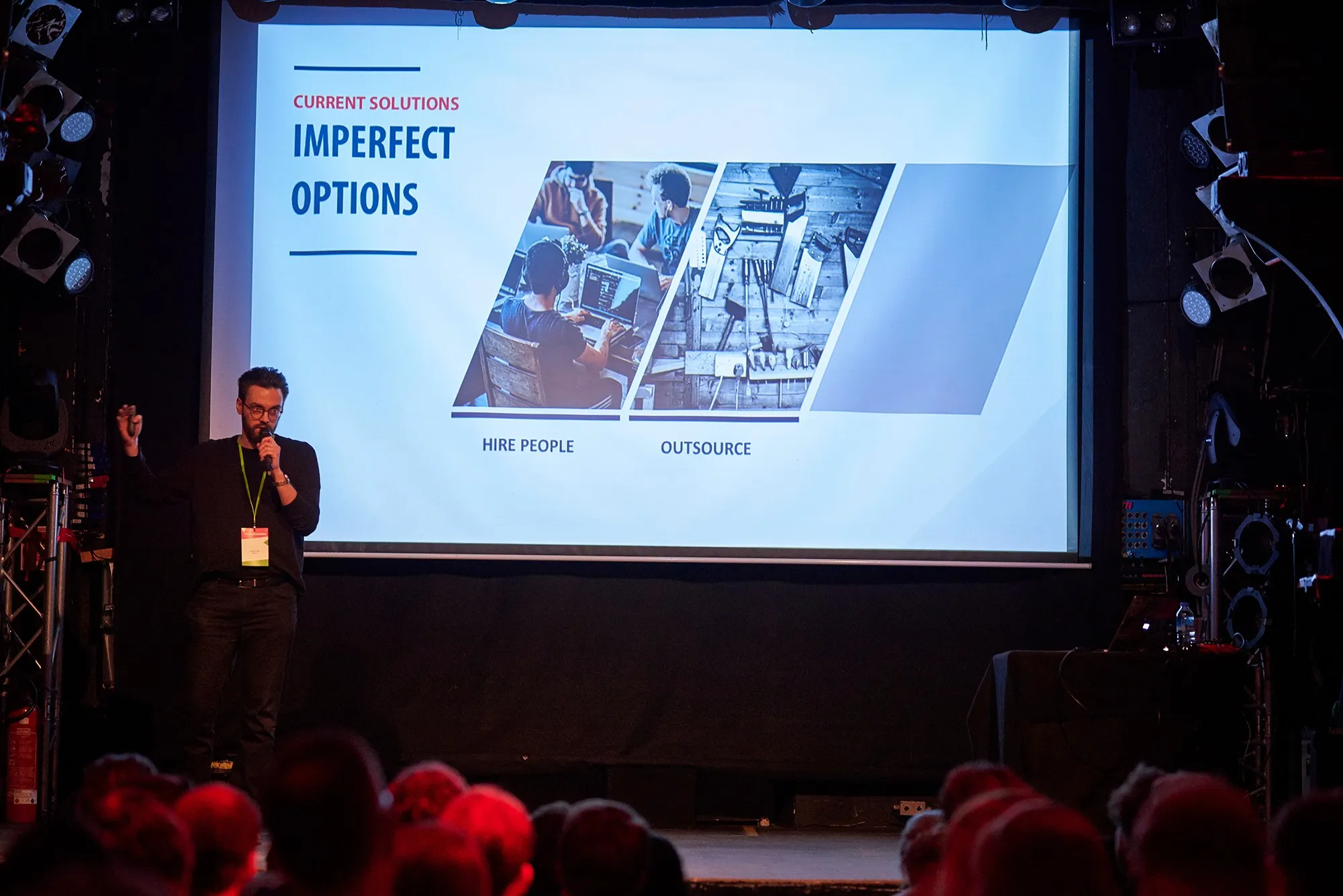 Well, until now :)
Jakub introduced Midesk, a Market Intelligence platform for departments that work with market-related content, like sales, strategy, communications or marketing. Midesk unlocks three key Market Intelligence capabilities: Media monitoring, Market data, and Market research. It provides a full media life-cycle management toolkit. We can monitor news in 65 machine-translated languages updated every 15 minutes, you can hook your own providers, like Google Alerts; or distribute newsletters and measure licences. Your company hard data and documents are centralised and categorised in one place where all of your colleagues can access them and work with them further, e.g. combine them into PowerPoint reports. Midesk provides a project-driven experience where you can organize your market research and communicate with your teams about it in an elegant way.
Jakub announced that we have signed our first paying customer. What is even more exciting, we have achieved tractions across borders of 3 countries, industries from media to shipbuilding, and across company sizes. We believe that it is because of our flexible pricing model that underlines our conviction that "Market Intelligence is a key capability that every company should have, regardless of its size."
Seed round in Spring 2020
Jakub closed the pitch by talking about our strategy for 2020. As we have already developed a working product, incorporated, been in intensive talks or started working on projects with other companies, and found a first paying customer; our focus for 2020 is Sales.
We already strengthened our Sales by welcoming Christian on board in December. But we want to grow fast and that's why we announced our aspiration to start a seed round in Spring 2020.
Jakub's final words were two calls to action:
For Investors: If you like what we have been working on and what we achieved in under a year, invest in us Get in touch via hello@midesk.co,

or if you are from sales, strategy, communications or marketing and work with media or research, let us look under the hood and check your Market Intelligence engine. Get in touch via hello@midesk.co.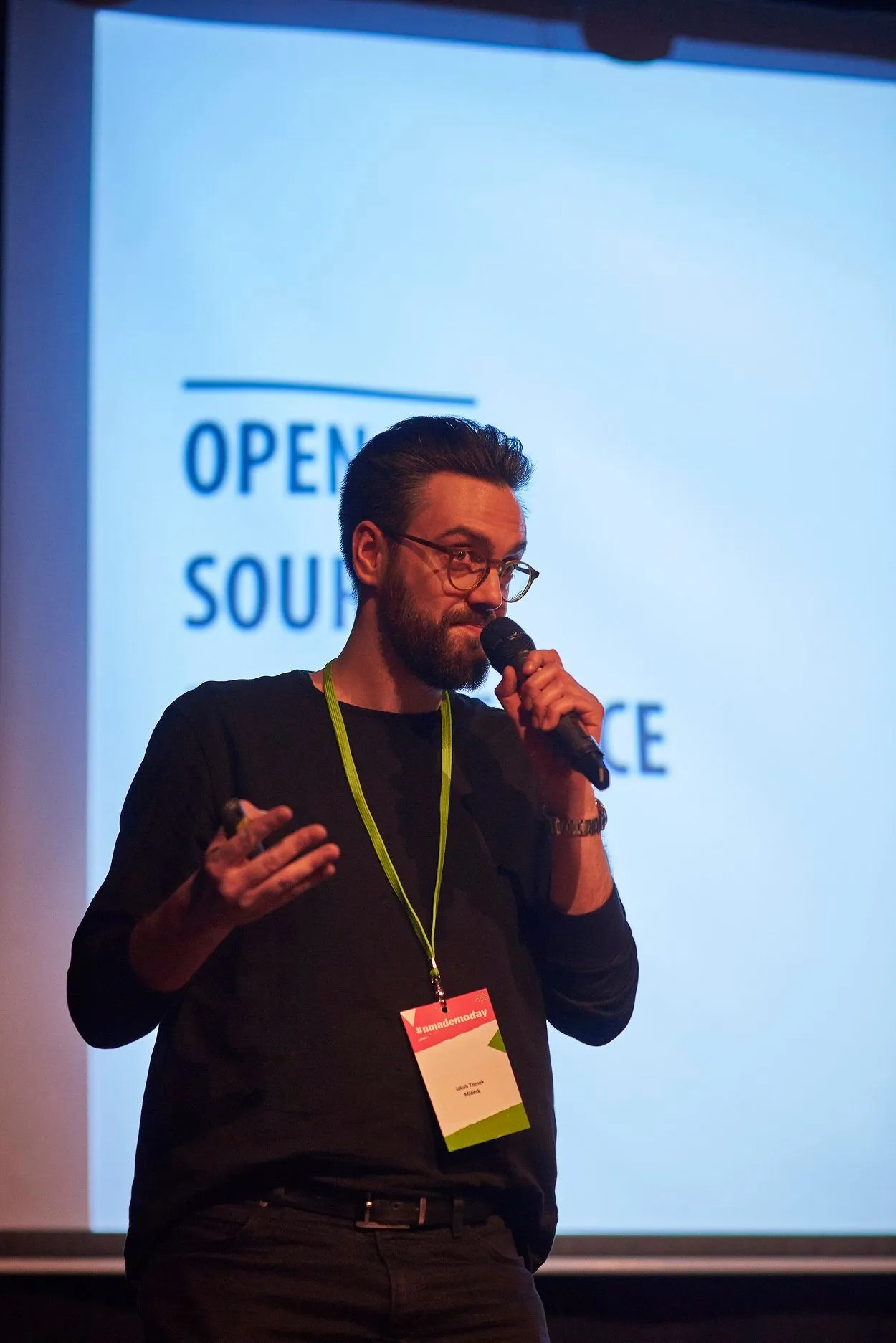 Chatting with the Mayor of Hamburg
Then there was networking, food, drinks, talks and in general a very relaxed atmosphere because Christmas was just around the corner.
One of the highlights of the after-part is our chat with the Mayor of Hamburg, Peter Tschentscher, who came to greet us and chat about innovation and Hamburg as a start-up city.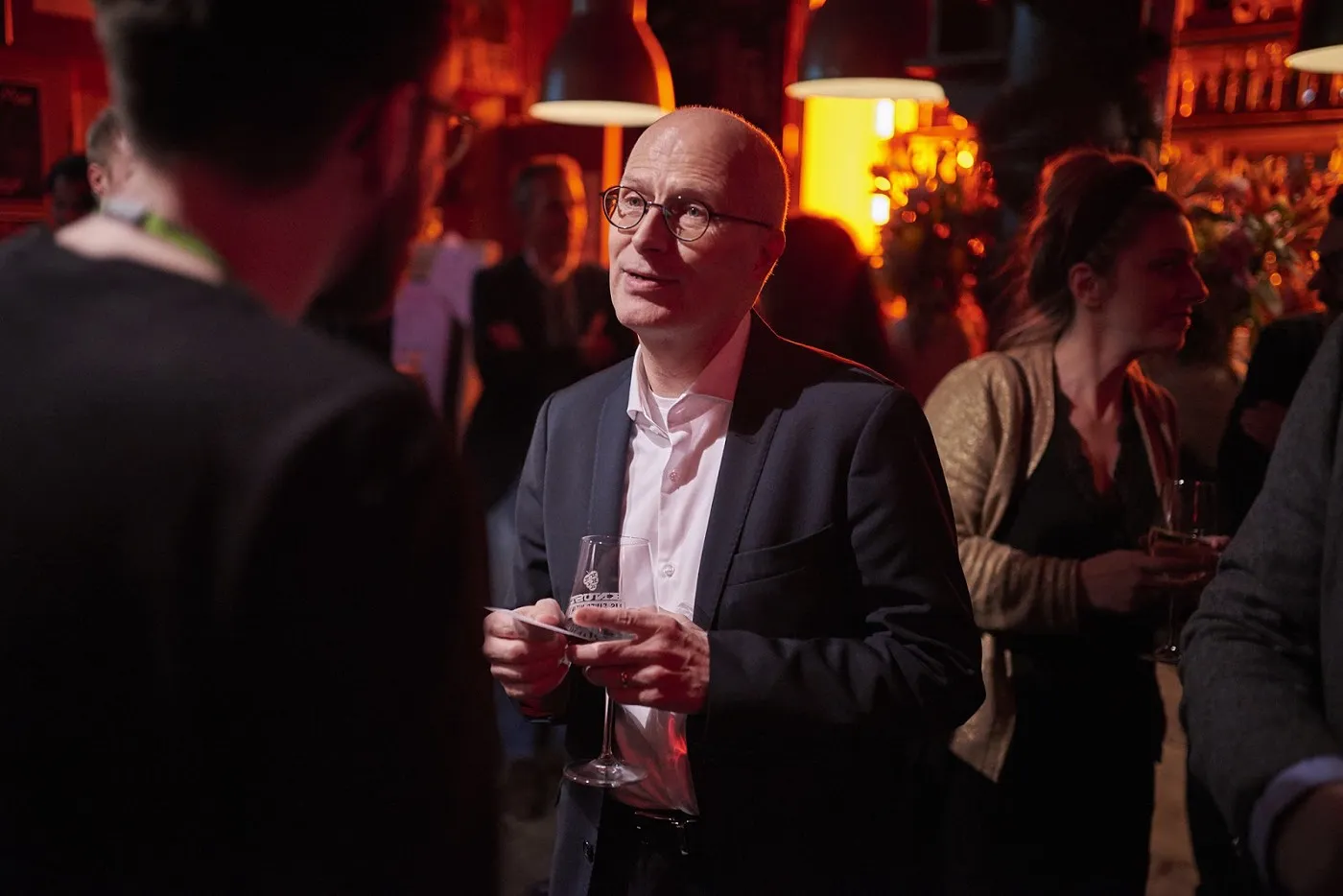 Thank you
To finish, it was a truly exciting and valuable experience to present in front of such a grand audience. We would like to thank the Next Media Accelerator for the organization and support before and during the whole event. Here a special big thank you goes to the partners Christoph, Nico, and Meinolf for their spot-on feedback, and to Julia who was always there for us and bravely struggled through the pain of our presentation training.
A big thanks go also to our business partners and mentors who joined the event or accompanied us through the accelerator. We must not forget the other startups from the cohort whom we shared our ups and downs, feedback and beers during the months of the accelerator: Thank you BotTalk, Casablnca, GetCreative, Story.one, Tebeox and Zaubar.
Last but not least, our big thanks go to our dear friends, families and our life partners for their undying support on our unique journey.
Yours
Midesk team